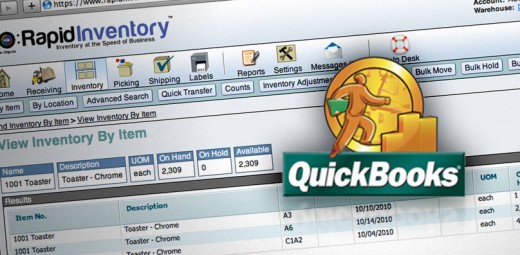 Made for—and only for—QuickBooks Users
RI Barcode Software Features & Benefits
If you're considering QuickBooks inventory management, make Rapid Inventory your first choice. Compared to other options, Rapid Inventory is:

The least expensive
The fastest to implement
The easiest to use
The only solution that keeps your users in QuickBooks
Compare AO: RI against the competition »
Rapid Inventory was designed from the ground up to be deeply integrated and seamless with QuickBooks. So if you're using QuickBooks now, Rapid Inventory is your #1 choice for adding the inventory management functionality that just isn't built into QuickBooks.
Fully Integrated Inventory Software Features — No Bouncing Back and Forth
Unlike the experience with other inventory management products, Rapid Inventory enables your inventory management functions and your QuickBooks functions to be fully in sync. Other inventory tracking and barcode software solutions take over all inventory functionality from QuickBooks. That means you lose everything you know and love about QuickBooks.
With Rapid Inventory, you perform all accounting functions for your small business in QuickBooks and all inventory functions in Rapid Inventory.  The two programs talk to each other, automatically sharing data so you have the benefit of real-time information.  It's the perfect inventory tracking software solution for users of QuickBooks.
Get Insightful Projection Reports to Guide Decisions for Your Business
Wouldn't it be great to never over- or under-order again, or to make sure your product supply aligns with your customers' level of demand? Our QuickBooks-integrated inventory tracking and barcode software can help. Without excess inventory tying up your resources, your improved cash flow can give you more flexibility.
Thanks to the advanced reporting functionality of Rapid Inventory, you can get Inventory Forecasting and Purchasing Reports to help you make informed decisions based on your past sales data and current indicators.
Added QuickBooks Functionality
QuickBooks is a great business tool—but it only goes so far. Rapid Inventory was designed to add the inventory management functions that businesses really need to excel in today's dog eat dog world, including:
Ability to Track Items in Multiple Warehouse Locations
Ability to Track Items in Multiple Locations in a Single Warehouse
Stock Rotation
Barcode Scanning and Printing Upgrade Option
Lot Number Tracking
Ability to Easily Manage Recalls
Expiration Date Tracking
Integrated Automatic Interface to QuickBooks Pro, Premier, and Enterprise
---
What's Your Role in the Business?
Inventory Manager: See how Rapid Inventory's features and benefits can streamline your busy work life:
Owner, CEO, or Manager: Learn how Rapid Inventory's features and benefits will improve your bottom-line: