Seamlessly integrates with the accounting software you're already using.
QuickBooks Integration
QuickBooks and Rapid Inventory have a long history together. In fact, we originally designed Rapid Inventory specifically to integrate with QuickBooks nearly 5 years ago and have been refining and improving it every day since then.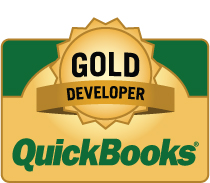 Rapid Inventory is inventory management software designed by QuickBooks experts. For you, that means:
No new software or hardware to buy or download
No IT hassle since no installation is required
Little or no training on new software
Rapid Inventory is a completely integrated QuickBooks inventory management system. But just how does the integration take place? How does inventory control data flow between QuickBooks and Rapid Inventory?
The answer is the secure QuickBooks Web Connector – a software application that runs on Microsoft Windows. Web Connector enables our specially-designed cloud inventory tracking application to exchange data with QuickBooks.
With Rapid Inventory, QuickBooks integration is quick and easy so you don't have to worry about losing any time. We take your already functioning QuickBooks inventory tracking and integrate it with our online system for increased efficiency and up-to-the-minute warehouse inventory details.
Online inventory management data flows in this way:

From QuickBooks to Rapid Inventory
Items
Sales Orders
Purchase Orders
Bill of Materials
From Rapid Inventory to QuickBooks
Invoices
Bills
Inventory Adjustments
Counter Sales (Sales Receipts)