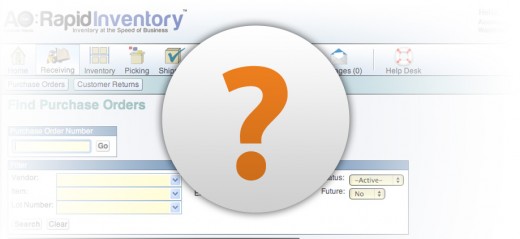 Get the answers to your most frequently asked questions.
FAQs
What are concurrent user licenses?
A Concurrent User License is a software license based on the number of simultaneous users accessing the program. With this type of license, User IDs are free and everyone who might ever use the system can have their own. What you are paying for is the number of people who can access the system at the same time. For example, in a four-user concurrent user license, after four users are signed on to the system, a fifth user is prohibited. When any one of the first four sign out, the next person can sign in. This is the type of user license that Rapid Inventory uses.
Some other systems use a different type of user license called "per-seat" or "named" user licenses. In that situation, you have to buy a user license for everyone who might ever use the system. This is usually less favorable to the customer, and more expensive than Concurrent User Licenses.
Here is a real world example of the differences between the two methods:
If a company employs four system users in which two work during the day and two work at night, then they can opt to purchase only two concurrent user licenses since there will never be more than two users on the system during a normal work day. The day workers and the night workers share the available licenses to use the system. For per-seat or named user licenses, this same company would have to purchase four individual licenses, one for each user.
Which of my employees need Rapid Inventory Licenses?
You should not buy a Rapid Inventory license for all your QuickBooks users, or a QuickBooks license for all your Rapid Inventory users.  You are going to get people the right tool to do their job.
QuickBooks will be used to create your Purchase Orders, Sales Orders, and the Item List.  Rapid Inventory will be used by your warehouse employees to receive the Purchase Orders, pick the Sales Orders, and do other inventory activities.  The automatic sync process keeps both systems up to date.
There are a few roles where people may want to use both systems.  For example, Rapid Inventory has some great purchasing reports.  If your purchasing person wants to review these reports, they will need to sign into Rapid Inventory.  Fortunately Rapid Inventory uses concurrent user licenses, so you don't need to buy a license specifically for them.  They can sign into Rapid Inventory with their own User ID and Password while the warehouse employees are at lunch.
In summary: The people in the office use QuickBooks, and the people who are actually touching the inventory use Rapid Inventory.
Was this product called Warehouse Management ES?
Rapid Inventory was designed in 2007 – 2008 as a joint project between AccuCode and QuickBooks. The goal was to create a seamlessly integrated Inventory Management system for QuickBooks. During this project, AccuCode was provided with unprecedented access to QuickBooks Product Managers and Software Developers. The end result is a tightly integrated inventory management solution that is unlike anything else in the QuickBooks marketplace. For several years the product was named Warehouse Management ES (WMES). It is now named Rapid Inventory.
How does the Monthly Subscription work?
We don't believe in locking our customers into long painful contracts or highly expensive solutions. We know you will like Rapid Inventory, and we know that unless we do something wrong, you will be a subscriber for a good long time. So we don't have to play pricing games. We offer simple month-to-month subscriptions, at a very fair low monthly price.
This is how it works: You get your first 30 days of Rapid Inventory for free. After that you are on a month-to-month subscription. Like most subscription products, you prepay to use Rapid Inventory. Simply pay your bill, and continue using Rapid Inventory. If you decide not to use Rapid Inventory anymore, let us know and we will cancel your subscription. No long-term contracts, and no games. We want happy customers that choose to use Rapid Inventory, not contractually-obligated customers.
How do I pay my monthly bill?
When your Rapid Inventory account is billed, you will see a banner across the top of the screen informing you of the new bill.
When you click on the banner message, it takes you to the Bill List page, where you will see your billing history. There is a button on that page that says "Edit Payment Information" (located at the bottom of the table by the "Print" and "Export" buttons).
Click on the "Edit Payment Information" button, and it will take you to the page where you enter in your credit card information. Please be sure to enter the billing address associated with the credit card you are using. Once you have submitted your info, your bill will automatically run within a few minutes.
You will receive an emailed receipt each time we process a bill.
Each month we will automatically run your monthly bill on this credit card, and you will not see another banner message unless there is an "Error" when processing your credit card. (Expired card, etc.)
You can also enter your credit card payment information by clicking on Settings > Payment Information.
An Admin-level login is required to access the Settings area.
Please note that your credit card receipts will state from: AccuCode, Inc.
What versions of QuickBooks does your product work with?
Rapid Inventory has been tested with the US versions of:
QuickBooks Pro, QuickBooks Premier, QuickBooks Enterprise.
Is my data safe?
Yes. Rapid Inventory is hosted by an extremely secure professional hosting facility, dedicated to hosting online applications like Rapid Inventory. Access to the facility is very limited, and there are multiple levels of security in place, including biometric hand scanners. Your information is many times safer than if it is stored locally at your facility, where the theft of a PC or server could mean the loss of all your information.
What about the Internet? Can someone see my information?
The information is delivered across the web using a secure HTTPS connection—the same type of connection that is used for applications like online banking (you will see a padlock in your browser window).
How often is my information backed up?
All of your data is backed up on a nightly basis.
If I cancel my subscription, can I get my information?
All inventory information is available for export from within Rapid Inventory. Prior to canceling, you should export any information you want to keep. For security purposes, we delete your private information from our servers shortly after an account is cancelled.
What happens if my Internet connection goes down?
That is a valid concern. While the Internet has become very reliable, if your business is located in an area where you do experience significant Internet down times, you need to evaluate web-based applications very carefully. While the Internet is down, you will not be able to do any data entry. If the down time is only for a few minutes at a time, Rapid Inventory may still be a good choice. But if you routinely experience significant down times, you will either need to look for a new Internet Service Provider (ISP), or choose a traditional PC-based application.
"I'm just not sure I like the idea of using an online system."
When you think about it, you probably already use many online applications. Your business may already use online banking and travel websites. Maybe your company has made the switch to an Internet email solution like Google Apps. You personally may use Gmail or Yahoo for your email, do your banking and tax filing online, and have fun with music sites like iTunes, social networking sites like Facebook, or photo sharing sites like Flickr or Picasa.
These types of online solutions are already very prevalent in our lives and getting more so by the day. Anytime you go to a website and enter a user ID and password, you are using an online software solution that is storing your specific information, just like Rapid Inventory does.
How do I order hardware?
Visit the "Barcode Equipment" Section.
What is the pricing?
We have a very simple pricing model. It is a month to month contract using concurrent user licenses (see FAQ above).
User licenses 1-5: $60/month each.
Additional user licenses: $30/month each.
Unilimted user licensing: $500/month.
You can add or remove user licenses as needed at any time.
Get more details on our pricing page.